We have less than a week left of summer, and with the beginning of a new school year rapidly approaching, I thought I'd spend this Flashback Tuesday reminiscing about some great summer memories. Here's how we like to spend our summers...
ROAD TRIPS
CAMPING
...don't let this picture fool you, I actually HATE camping, but the rest of the people in my family LOVE it and I happened to find this picture of a rare moment when I when I actually looked relatively happy cooking a hot dog, so I thought I'd post it as proof.
PLAYING AT THE POOL
HANGING OUT WITH FRIENDS
GOING TO THE BEACH
sometimes it's unexpectedly COLD at the beach...like when you go to Bear Lake in June!
TAKING FAMILY PICTURES
I LOVE summer! I love the traditions we have and the memories we've made. I love that this has been yet another amazing summer. And even though I'm a little sad to let go of the traveling and the lazy schedule, I'm ready for a new school year to start, too. I LOVE September almost as much as I love June.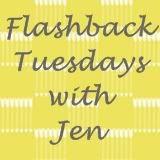 Thanks always to Jen for starting this great Flashback idea. Someday I hope to be able to create one of these posts in less than 12 hours.