Last week, Jen invited me to join her Flashback Tuesdays link party on her blog. What an awesome idea to pick a random picture from forever ago and tell a story. I have a jillion pictures that I always want to share, but I've never really had a good reason to...until now!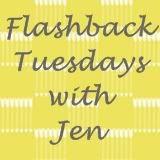 I've spent most of the day agonizing over which picture to choose. And, as you can see, I couldn't just pick one. But I did manage to keep it to one EVENT.
No comments about the hair, please...it was 1998!
On Jen's Flashback Tuesday, she posted a Travel Flashback and asked when and where we last went out of town. I couldn't post our last vacation picture because that just happened two weeks ago when we went to San Antonio...that's not a flashback; it's just repetition. So, instead, I went back to a trip to Utah that we took in the summer of 1998. Flowering Buttercup was almost 2 and I was VERY pregnant with Spell Girl. Long before we LIVED in Mendon, we would travel there for vacations. We were in the middle of a move from Atlanta to Seattle, so we managed a little diversion to hang out with family for a couple of weeks.
We took a day trip with the entire family to Bear Lake. In 1998, that included two grandparents, four brothers, three wives, and only six grandkids! (There are 16 now!)
Since the Grs had just finished building their beautiful home, we all thoroughly enjoyed playing on their gorgeous five acres. I kinda loved that farm life feeling...especially playing on that cool tractor!
There is nothing better than summers in Mendon. As much as I love living in Dallas, I don't love the summers here, and there are a handful of things I really miss about Cache Valley on a regular basis...especially in July. I miss the mountains. I miss the way the nights cool off enough to wear a sweater. I miss eating breakfast on the back porch and being able to see the whole valley. I miss morning walks with my father-in-law.
I love Flashback Tuesdays and look forward to lots more reminiscing! Thanks Jen!!