When I was a little girl, my dad and I used to make coconut Easter nests every year.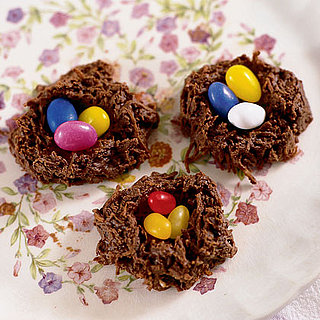 My dad was in charge of almost the entire process. First, he melted the chocolate (with a double boiler because it was the 70s...did we even have a microwave then??) Then he added the coconut and mixed it until it was totally covered in chocolate. Then, on a sheet of wax paper spread out on the counter, he would carefully form little spoonfuls of the chocolate-y coconut into PERFECT little nest shapes.
And then it was MY TURN!
I sat on the other side of the counter on a barstool with a bowl full of jelly beans and patiently waited to finish the nests with "eggs" - always 3 eggs and always different colors. And I would always separate all the black jelly beans into a separate bowl (because you can't have black eggs in a nest!
)
and save them for my mom (because the black ones were her favorite!)
I haven't made chocolate Easter nests in YEARS. Since Spell Girl is allergic to coconut, I don't often make desserts that include it. But this year, I found a similar, non-coconut recipe and thought that was a great excuse to bring back a lost tradition.
This time I used my microwave to melt the chocolate. I used chow mein noodles instead of coconut. I used my Pampered Chef scoop to form the nests...which means the process is faster, but the product isn't as perfect as my dad's. And no black jelly beans to save.
But I used the wax paper. I used exactly three jelly beans in each nest. And except for the ALL-

purple

one I made, every other nest had three different colors in it.
Tomorrow morning, my kids will see the same thing I saw every Easter morning as a little girl. Even though the ingredients and the process are slightly different, I think my dad would be happy that I made the effort. And I think he would be happy knowing that a tradition that's been gone for awhile is finally back.