We had some seriously amazing food while we were in Hawaii, so it definitely required it's own post. Pretty much ALL the food in Hawaii is amazing...um, except for poi...ew! (Unfortunately, if you combine all that amazing food with the previous month of holiday treats, I'll be lucky if I fit into anything but stretchy pants anytime soon.)
The night we arrived

, my mom had filled our hotel room with tons of treats. She must have known we would be starving...even though it was after midnight Central Time.
There was a red box filled with about a million of these little cookies...I had to restrain myself so that 4 of them made it home to the kids. (It was hard and ONLY 4 made it home! I ate the other 999,996.)
Lilikoi Shortbread Cookies from The Cookie Corner
Another box was filled with my childhood favorite...
Manapua
They're like sandwiches, sort of...they're baked or steamed dough filled with char siu (which is a Chinese way of cooking pork that has a totally different flavor than any other kind of pork.) It's a little like BBQ but not really. These were my favorite thing to eat when I was a little girl, and just the smell alone brought back floods of memories!
When we got to Kona

, my Auntie and Uncle gave us the most detailed, thorough tour EVER and then brought us back to their house for a real Hawaiian dinner!
Chicken Long Rice


Lomi Lomi Salmon
Lau Laus - pork and sometimes fish wrapped inside taro leaves and steamed






and rice...of course!
The next day

while we were out in the "tourist-y" part of Kona, we had my all-time favorite thing on the planet (besides Diet DP)...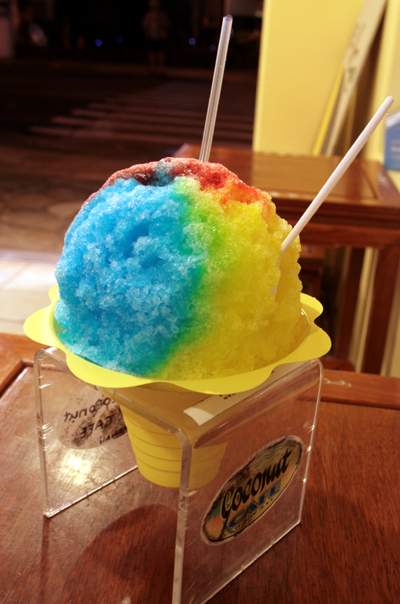 Hawaiian Shaved Ice
This is SO NOT a sno cone! If you've never had the Hawaiian kind, you haven't experienced the divine potential of ice! I'm a huge fan of anything slushy and ice-y anyway, so this is like heaven in a cup for me! It's way better than my frozen Vitamin Water! :)
look at all those syrup choices!!
They shave the ice so finely that it just melts in your mouth. They pile it into a huge cup and pack it so that it looks like a snowball. And THEN you get to pick three flavors of syrup to add to it. I picked banana, coconut, mango...in that order so that the white coconut stripe was down the middle and I could tell the yellows apart...I know, I'm a dork. And guess what else you can do!!!...You can have them put ICE CREAM in the middle before they pack it. So they fill the cup, then put a giant scoop of vanilla ice cream in the middle, and then pack more shaved ice around it, and THEN pour the syrup of your dreams all over it. That was a little over the top for me, but my uncle had one and it looked amazing!
For

breakfast

we had these...
Malasadas
...they're like sugar donuts, but oh so much better! They're melty and dough-y and covered in sugar and I can't believe I have to wait until next July to have another one. serious YUM!
POG - Passion Orange Guava Juice
On our

last day in Kona

, the whole family went to Genki Sushi
.
It's the most unassuming little place, stuffed between a Subway and a Panda Express in a strip mall. You think you're going in for fast food...and it is sort of fast food because it's ready the minute you sit down...but it's totally not what you think!
The little sushi makers are in the center of the restaurant where you can watch them make the fresh sushi and put it on a

CONVEYOR BELT

that "delivers" it to the surrounding tables....brilliant!!
So when you sit down, you have instant and total access to a million tempting little plates of sushi floating right next to you. It didn't take us long to realize that all that accessibility might not be such a good thing. They charge by the plate (price is determined by the plate color), and by the end of our indulgence we had quite a few stacks of each color!
It was totally worth it, though, and for our last meal in Hawaii, it was a great choice. We didn't have to eat until the next day...when we were back at home!
So after a week of total and complete food nirvana, reality has set back in and I've realized that I actually have to fit into a skirt on Sunday. Back to Whole Foods and my pre-December lifestyle...more fruits and veggies, WATER, whole wheat flour, less meat and no caffeine! By next month, I should be ready for the next adventure...