There is no place like the North Georgia mountains to celebrate fall. The changing leaves are gorgeous. There are pumpkins on every corner. And they have the BEST apple farms in a little place called Ellijay. The first time I ever had fresh pressed apple cider and fried apple pies was in Ellijay. The winding roads and little roadside stands are the best part of the whole trip.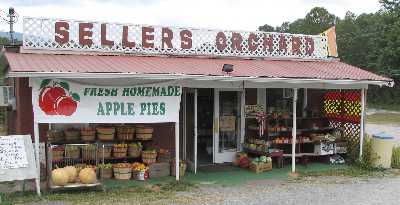 We lived in Georgia from 1994-1998 and then again from 2000-2003.
I LOVE this picture of the girls. Just after June was born, we moved from Seattle back to Atlanta. I think this was our Christmas picture in 2000.
In early October 2000, the Scout Master wanted to go on one last trip to Amicalola Falls before we moved to Utah. I remember being completely exhausted trying to get used to a new Baby Mack at home and get things organized for a major cross country move. I'm pretty sure I strongly suggested that the Scout Master make this trip with the girls by himself so that I could stay home and take a nap. I'm so grateful for whoever took this picture so that this moment could be captured forever. Less than a month later we had started our trek to Utah. We have such fond memories of those beautiful North Georgia mountains. What an amazing place to live.